What is Inga alley cropping?
Inga alley cropping is a sustainable method of farming that could potentially replace slash and burn agriculture to benefit both poor farmers and their environments.
Inga alley cropping consists of growing crops between rows of Inga trees. Inga spp. (guama) trees are planted at 50 cm spacing between them and in rows four meters apart, with crops cultivated between the rows.
The cycle begins with growing the Inga trees to a point where their canopies no longer admit light to the ground beneath them. Deprived of light, the weeds below die. Then, the farmer prunes the Inga trees, -- leaving the leaves in the alleys and utilizing the limbs as fuel for cooking, selling the surplus for extra income – and plants crops between the alleys. The Inga leaf litter decomposes slowly and protects against erosion because it absorbs the impact of raindrops. It also introduces many nutrients to the soil through degradation processes like those of a natural forest, where fungi and bacteria attack the leaves under high temperature and humidity. This nutrient production allows for high and sustainable crop yields, with surpluses that can be sold, without the use of fertilizers, herbicides or pesticides. Thus, the produce grown is eligible to be labelled as organic. Once the crop has been harvested, the Inga trees are allowed to grow dense enough to close their canopies once again to continue the cycle.
The Inga tree has the added benefit of secreting sweet substances that attract wasp, ants and spiders, which will predate on many of the crops' pests. The fruit that is produced by the tree are ribbed, cylindrical pods, straight or often spirally twisted, up to 1 m long and 3-5 cm in diameter. The pods contain fleshy green seeds in a sweet, white, cottony pulp, which monkeys, birds and cattle seek avidly, feeding on the seeds and pulp.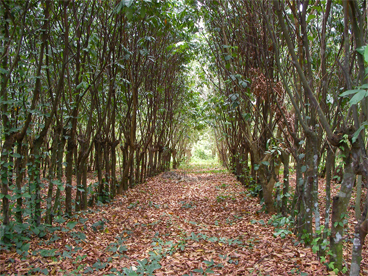 A mature Inga alley at CURLA, showing the canopy closing over and almost no weeds. Copyright © T. Miller 2009
Corn, beans, pineapple and black pepper have been evaluated as crops grown in the Inga alleys at CURLA (part of the university). With corn, yields of up to 2 ton/ha have been obtained, and with beans, 1.4 ton/ha. Pineapple have shown similar yields and quality comparable to those grown commercially by Standard Fruit of Honduras (Dole Corporation), but without application of chemicals. Corn and bean yields are good, considering that one family of 8 members consume 1.4 ton of corn and 0.4 ton of beans yearly. Thus, surpluses could be sold and so provide additional income for the farmer. Fuel wood production from pruning to allow light between rows for growing of crops has reached 6,580 sticks, or 65 loads, which allows for family requirements and selling of surplus for extra cash.
Pineapples ripening in an Inga alley at CURLA. Note the regrowing Inga trees at the sides.Copyright © Guillermo Valle 2005
Its is estimated that one farmer can handle the farming of at least 2 hectares of the Inga system. At a Food and Agriculture Organization (FAO) project in Lempira Sur in south western Honduras, near the border with El Salvador, it is reported that a low input sustainable agriculture (LISA) system, called the Quezungual system, has increased corn yields from 0.9 ton to 2.0 ton/ha, bean yields from 0.3 to 0.6 ton/ha and allowed an extraction of 6.7m3 of fine wood per ha year. Additionally, it increased humidity content of soils from 8 to 23 % in the dry season, which is equivalent to an additional 30 mm of rain in that period. Soil erosion losses of 125 ton/ha/year were reported at this site without this system. This was reduced to 20 ton/ha/year with the system, meaning a reduction in loss of soil nutrients valued at $397 w/o the system down to $45 with the system. It is estimated that the Inga system developed at CURLA has the potential to do even better at reducing soil erosion and loss of nutrients.
FunaVid and CURLA believe the Inga system will be a great tool in reducing erosion in steep slopes as well as helping to break the poverty cycle and protect the reef system from non-point sources of sediment erosion. Currently, there are six sites planted with Inga on FunaVid land and crops such as corn and beans are being grown. Information on the performance of the system is being collected and analyzed. Likewise, training is being carried out with regional farmers and high school students.